About Afroart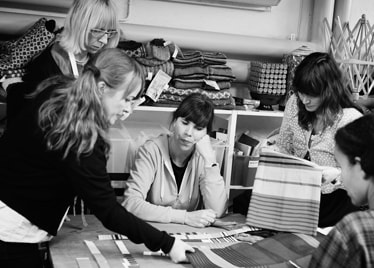 Afroart was established in Stockholm 1967.
The Afroart stores have over the years been a watering hole for anyone who has a passion for crafts. Today Afroart AB is owned by six textile designers, all with a MFA degree.
Afroart collaborates with local artisans to highlight the craftsmanship of the developing countries in Africa, Asia and Latin America.
A great deal of Afroarts catalog is developed by Afroart Studio, Afroarts own design team. The idea is to use design as a tool, to develop and market traditional crafts and thereby help to create jobs in the regions where the craft is currently the main source of income. This give unique traditions of crafts a possibility to survive and Afroarts clients get access to the world's craftsmanship.
Afroart has four stores; three in Stockholm, where one is a "shop in shop" in the warehouse of Åhléns City, and a Webshop. Afroart also runs an extensive wholesale business with hundreds of retailers.
Afroart imports directly from artisans or through Fair Trade organizations.
Fair trade is a matter of course for us!
Our partners are in the following countries: Bangladesh, Bolivia, Burkina Faso, Burundi, Ecuador, Ivory Coast, El Salvador, The Philippines, Ghana, Guatemala, India, Indonesia, Kenya, Madagaskar, Mali, Malawi, Morocco, Mexico, Mongolia, Nepal, Niger, Nigeria, Pakistan, Senegal, Sri Lanka, South Africa, Tanzania, Vietnam.
Welcome to our world - A world of craft!
Katarina Chintoh, Maja Ekmark, Bodil Karlsson,
Emma Labor, Gunilla Lundberg och Marie Persson Enström.